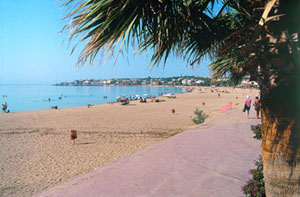 Altinkum means golden sands and the beaches speak for themselves. Altinkum stretches along the beach and the main village area is only a short walk from the beachfront, promenade and harbour.

Great restaurants,cafes and bars,excellent shopping, vibrant markets and friendly faces make up this lovely town. There are plenty of activities for both young and old in Altinkum and the surounding area, boat trips on the Aegean coast are a must.

Local attractions include the Temple of Apollo (a short 5 minute walk from the resort centre, called Yenihisar). It is located near many other ancient sites, including Miletos and Ephesus. The Didim Marina is one of the largest on the coasts of Turkey, and provide visitors with an American style shopping centre, restaurants, supermarket, gym & fitness centre, cultural office, banks, swimming pool and children's facilities as well as offering berthing for up to 620 yachts.