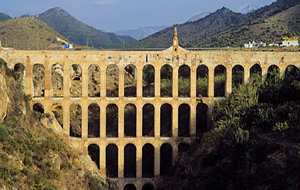 Almunecar has several high quality beaches including Cabria Beach, Galera Beach, gentle with dark sand, Tesorillo Beach, small and surrounded by rocks, Velilla Beach, long and protected from westerly winds and very popular in summer is the San Cristobal Beach with numerous restaurants and beach bars.

Among the numerous attractions of Almunecar is the Loro Sexi bird park which will delight adults and children alike. Some 1,500 birds of 120 different species are on display here, including doves, peacocks, parrots, cock-a-toos, macaws, swans, ducks, ostriches, etc. Close by is the Parque del Majuelo, a pretty botanical garden containing Europe's largest collection of subtropical plants, with more than 400 species, the majority from Brazil and Cuba. In the park you will also find the ruins of the fish salting "factory" which was founded by the Phoenicians in 4th Century BC. Climb up to the castle for a good overall view. The Archeological Museum "Cueva Siete Palaciosm" and the San Miguel are open daily and well worth a visit.

Almuñecar Castle's Pottery the town's last existing pottery, adds to the many historic sites in the San Miguel area and the preservation of the tradition of Almuñecar's pottery, as well as providing a tourist attraction. The Alfareria del Castillo with local potter Antonio Fernandez in attendance still makes the famous fish and chicken shaped pots and other objects similar to those found in archaeological excavations as well as providing visitors with a magnificent view of "El Majuelo" botanical park.