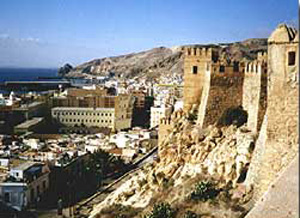 Gastronomic specialities in Almeria include Gurullos (stew with pasta), Trigo (stew with grains of wheat, pork, beans and herbs), Gachas (hot and spicy clam stew) and Escabeche e Sardines (fresh sardines in hot sauce).

As well as cultivating tourism over the past decade, Almeria has also cultivated innumerable plastic covered greenhouses and now produces the bulk of the province's fruit and vegetables, much of it for export.

Almeria enjoys a warm and dry Mediterranean climate, with little rain and a large number of hours of sun per year (more than 3,000 hours). The temperatures throughout the year are mild, reaching no lower than an average of 13ºC in winter, and no more than an average of 25ºC in summer. This mild climate allows the visitor to enjoy all the possibilities available within the province at any time of the year.

Almeria has a good nightlife with a couple of dozen music bars and discos dotted around the centre. There's plenty of choice in both atmosphere and music, from traditional family entertainment to all night dance music. The centre also has a reputation for good food with many fine seafood restaurants and tapas bars to be found around Tenor Iribarne. There are also many fashionable restaurants and cafes on Avenida de Frederico Garcia, whilst a favourite spot for breakfast is Puerta de Purchena. You can find lots of bars and Terrazas (summer terrace) on the Streets c/Fraga Iribarne and Concepcion Arenal. If you are looking for pubs and discos you will find most of them on c/ Real, Martines Campos, Trajano, Pedro Luque, Eduardo Perez, el paseo de Almería andl Nicolás Salmerón park.