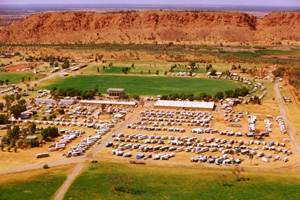 Popular attractions and activities include:

MacDonnell Ranges : Alice Springs is located in the heart of these striking ranges. 14 miles (22km) west of Alice Springs visit Simpson's Gap and ancient Standley Chasm. At noon, see the changing color of the cliff faces as the sun reaches the bottom of the gorge. Swim in Ellery Creek Big Hole or Ormiston Gorge. Visit Alice Springs peacefully rests in the warm Outback sun.

Ewaninga Rock Carvings Conservation Reserve: Fine carvings (petroglyphs) of abstract symbols and animal tracks that go back 300 generations. A short 4WD trip south of Alice Springs.

Frontier Camel Farm : 5 miles (8km) southeast of Alice Springs. Ride a camel for an hour or three-day trek. Visit the Camel Museum and view the Arid Australian Reptile Display. 9am- 5pm daily.

Pitchi Richi Sanctuary : Established by Leo Corbet in 1955 and developed as a bird sanctuary. The museum is a tribute to the Outback pioneers. Also presents Aboriginal stories and contains a collection of Aboriginal clay sculptures. 9am-2pm.

Old Telegraph Station Stuart Hwy : View historic telegraph equipment at the site of the original Alice Springs settlement and communications post. 8am-7pm daily. Panorama Guth : Painted by artist Henk Guth, this breathtaking 360" painting of Central Australia is 20 feet (6m) high and 203 feet (61m) round. The gallery houses a permanent art collection including Aboriginal artifacts and watercolors by artists such as Albert Namatjira. 10am-5pm Mon-Sat.

Ghan Preservation Society Rail Museum : MacDonnell Siding, a few miles south of Alice Springs. See and ride the Old Ghan train on a 14-mile (23km) private track. 10am-5pm daily.