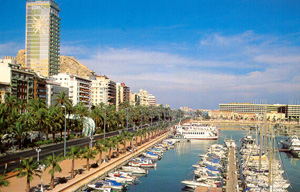 Popular attractions include:

Castell de Santa Barbara : The impressive castle that towers over Alicante was originally built by the Carthaginians in 400BC and later used by the Romans and Moors. The fortress is massive, encompassing moats, drawbridges, tunnels, cisterns and dungeons, not to mention a stately tower and keep. From the top of the castle there is a wonderful view of the bay and city. The castle can be accessed in an elevator from the Explanada d'Espanya.

For a change from beaches, just 12 miles (19km) inland west of Alicante is Europe's only palm forest, forming a lush oasis around the city of Elche (Elx). The city boasts several beautiful parks and public gardens. The Parque Municipal is one of the most popular, festooned with palm trees, grassy promenades and children's playgrounds. Most beautiful is the Hort del Cura, filled with shade trees and bright flower beds. Elche can be reached by an hourly train service from Alicante, or by regular bus connections. Isla Tabarca : The tiny islet of Tabarca is becoming an increasingly popular day trip destination from Alicante, with its quiet fishing village offering an old fort, several very reasonably priced fresh seafood restaurants, a rocky beach with clear turquoise water, and several coves and tidal pools ideal for bathing. The island lies ten miles south of Alicante and can be reached in an hour by ferry from the dock on Explanada d'Espanya in the city.

Museu de Arte del Siglo XX Asegurada : In the Plaza de Santa Maria stands Alicante's oldest building, a former granary dating from 1685. Ironically the city's oldest building contains its most notable modern art collection, donated by painter and sculptor Eusebio Sempere in 1977. Among the noteworthy paintings on display are those of Dali, Picasso, Calder and Miro. Free, guided tours are also available at no cost if booked in advance.