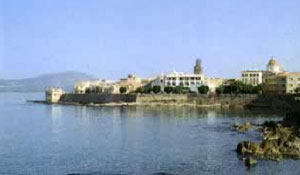 The attractions reflect a patchwork history of invasion and imported tradition, and the town has had fierce Catalan roots ever since the ruling Doria family was swept aside by Pedro IV of Aragon in 1354 and the Aragonese left their mark.

The seven-towered fortified walls that jut from Alghero's old town into the Mediterranean date from Aragonese rule and to this day the centre proudly displays street signs in Italian and Catalan. The language you hear might be an archaic Catalan or the local Sardo, of Spanish and Latin origin. Even food is a fusion of Sardo-Italian with Catalan touches.

Alghero's centre is small and walkable and most sights are in the buzzy, medieval citadel. Apart from the seven towers (starting with Porta Terra) that divide the old and new towns, the key building is the imposing, 16th-century, Catalan-Gothic cathedral at the junction of via Roma and via Umberto. Nearby, in the same style, is the Palazzo d'Albis (piazza Civica) and the Jewish palace (Palau Reial, via Sant'Erasmo). To the north of the citadel, sleek yachts decorate the marina, an ideal spot for spending mellow afternoons in quayside bars.

Quiet pine forests adjoin the silver strip of beach and provide a romantic backdrop for an evening stroll. North of town are clean, sandy, hotel-fringed beaches that are good for lovers of watersports. The beaches stretch for miles, are lapped by the Med and are peppered with fine restaurants and beach-side bars.

Popular sights include:

Neptune's Grotto - A popular sightseeing expedition from Alghero is a boat ride to Neptune's Grotto, an impressive deep marine cave in the sheer cliffs at Capo Caccia. The boat ride takes 45 minutes past the bay of Porto Conte. At the cave visitors can take a 45-minute tour entering through the long snaking passage that delves into the rock, to view dramatically lit, fantastic stalagmites and stalactites. The cave can also be reached by bus from the main terminal in Alghero, or by car, which on arrival necessitates climbing down 650 steps to the cave entrance.

Nuraghe - The mysterious Nuragic people who arrived in Sardinia around 1500 BC festooned the island with about 30,000 circular fortified structures. Today about 7,000 of these remain standing to be marvelled at by tourists. The complex of Nuraghe in Barumini has been added to UNESCO's World Heritage List and is the finest and most complete example of this prehistoric architecture. The Barumini site can be reached from Oristano or Cagliari on route 131 and turning off onto route 197. Other well-preserved nuraghe can be seen at Sant Antine. At Nora on the very southern tip of the island are the remains of an extensive Nuragic village including an amphitheatre, forum, baths, temple and Kasbah. Other good Nuragic sites are near Villanovaforru, Alghero, and Abbasanta. Most Nuraghe are closed afternoons and Sundays; most charge no admission.