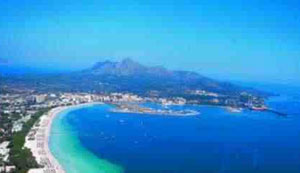 The activities in Alcudia are mainly focused along the spectacular five-mile (eight km) beach that fronts the resort. All sorts of watersports can be arranged from scuba diving to banana rides.

There are tennis and squash courts in the resort and nearby attractions include a water park, a go-kart track and horse riding stables. Boats trips can be arranged to the stunning Formentor promontory where passengers can snorkel or simply take in the views.

The nearby towns of Pollenca and Alcudia (old town) and the mountain village of Lluc are worth exploring in search of a little culture, while those looking to get away from it all can take a trip to the mountainous western side of the island. Alcudia doesn't have a distinct shopping centre: shops selling buckets and spades and tourist trinkets line the beach road and the other small shopping areas dotted around the resort also cater for tourists. The satellite resort of Playa de Muro has an upmarket mall with some nice boutiques and the port area has a selection of designer shops.

The supermarkets are good, stocking all the well-known brands along with cheap alcohol and cigarettes. The local market opens on Tuesday and Sunday mornings and the market in Inca, 15 miles (24km) inland, opens on Thursdays. Good buys include the porcelain and leather goods, but bargain hard.

As far as eating options, most restaurants in Alcudia cater for the unadventurous British palate with plenty of fast-food joints and cafés offering something with chips. There are also a few Italian, Indian and Chinese restaurants. The better restaurants are mostly in the port area, where diners can find some decent Spanish, French and seafood restaurants within a lovely harbour setting.

Alcudia has lots of bars, pubs and discos catering for most tastes but this is not the resort for those after some serious clubbing. Many of the hotels offer in-house entertainment ranging from flamenco dancers to comedians.

The resort of Alcudia is not known for its architectural merit; its skyline is dominated by 1960s style apartment blocks. To the relief of many, Alcudia is not the resort for party animals; those looking for some serious clubbing should head for the south of the island.

Local excursions include the nearby old town of Alcudia with medieval streets and Roman remains; Puerto de Pollensa and peninsula of Formentor; monastery of Lluc and onward to Soller, Deya and Valldemosa; Caves of Drach and Hams; Palma; market at inland town of Inca (Thurs); jeep safaris; boat cruises; evening shows.