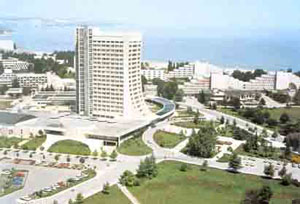 Albena is a popular destination amongst budget to middlemarket visitors not seeking Western-style sophistication or standards.
Good value attracts mature couples and younger families, although there is little for children to do. Many will not wish to endure the sleazier side of Albena that unfortuately is present in the area.
The resort's jewel in the crown is a 4 mile stretch of broad golden sand bordered, where it counts, by a promenade ostensibly closed to public vehicles and lined with a variety of snack bars and ice-cream stalls.
Parasols and sunbeds are available for daily hire. There is also a wide choice of water sports including motorised 2-man hang-gliders and paragliding. Sea is child friendly, and there is an ever-watchful army of lifeguards on the beach.
Accommodation here is mostly mid-range 3-star offerings, but mediocre by Western standards in both design and quality, with many properties mass produced in almost identical slab-like concrete fashion. There is a 17-storey, 4-star Hotel Dobrudja, dominating the centre which is easily the largest and best equipped in hotel in the town. Shoppers will be somewhat dissapointed as the town is severely lacking in quality and choice. Limited to locally produced handicrafts, linen, bootleg CDs and paintings-while-u-wait from a motley collection of stalls and kiosks that line both sides of the pedestrianised main street, promenade and footpaths to the beach. The small Bazaar shopping precinct offers little more than a few shops selling local souvenirs and alcohol, with 1 department store. Popular excursions (although recommended to be booked through a travel agent) include: Full day trips to Varna and its dolphinarium. 2 days plus: Sofia; Istanbul by air; Cairo by air. General facilities in the area include:
. 8 football fields
. 17 tennis courts (4 indoor)
. 25 swimming pools with mineral water (4 indoor)
. 12-alley bowling hall
. 9 beach volleyball grounds
. A modern horse riding club
. A modern multifunctional sports hall, where 11 different sports can be exercised at one and the same time.
. Bars, casinos, restaurants with entertainment performed by famous actors and actress
. Playgrounds for children
. Bicycles and riding horses, stunts with horses and cascade tricks
. Rented automobiles, cutters, sail-boats, yachts, waterwheels and jets There has been developed a whole range of water sports with the assistance of coaches and equipment.
Albena has a Congress Centre, which provides the preparation, organization and holding of congress and business events in Albena Resort and coordinates all activities associated with these events within the resort area.