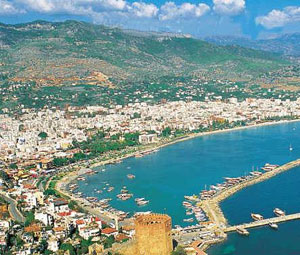 With noise, fumes and billows of dust from near-continuous traffic, the appeal would seem to be small. Alanya, however, continues to defy logic by attracting hordes of normally selective Germans, as well as lesser numbers of other nationalities.

It certainly has a bit of everything, albeit of negligible quality. With its many bars and clubs, Alanya serves the requirements of teenagers better than other age groups. The beaches here extend for miles in both directions. However, the quality of the pebbly and gritty sand and the water can at best be assessed as only acceptable. The beaches drop steeply into the sea, creating a short yet strong underflow. This and negotiating an ancient lava field, lying just below water level, can make entering and leaving the sea something of a challenge.

Like all big Turkish towns, shopping in Alanya has a veritable bazaar of small shops with hundreds cramming the narrow alleys above the harbour. Carpets, leatherware and jewellery are in the majority, with many more general stores stocking souvenirs. Roadside stalls sell local pottery, from ashtrays to Ali-Baba jars.

The main attraction here is a visit to the castle together with the Red Tower guarding the harbour. There is also a funfair and small park particularly suitable for children. Evening entertainment is Alanya's strong point centred mainly around the harbour.

Excursions here consist mainly of sightseeing at the ancient harbour and city of Alanya; inland to mountains and pine woods for relief from oppression of coast. Archaeological sites, with theatres at Aspendos, Perge and Side; very touristy caves at Damlatas.