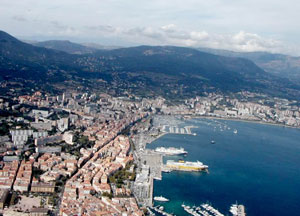 There are a fine choice of excellent sandy beaches, accessible by reasonably regular public transport.

Entertainment is centred around souvenir shopping, water sports, the French Museum (in former home of Napoleon Bonaparte) for paintings.

There are no shortages of restaurants for all price ranges . Fish and Corsican specialities are popular. Local wines are also very good. Tennis is also popular and abundant here and is often integrated amongst the variety of hotels and apartments that are also present.

By night there are numerous discos, nightclubs, municipal casino, fashionable cafes and bars. There is also a medium sized Cinema. One-night stands by French popular singers are also a popular attraction.

Excursions generally consist of: Boat trip to uninhabited islands in the bay or to resorts across the bay. Scenic coach trips to famous island beauty spots, Bonifacio at the S tip of Corsica, Sartene. Picturesque train service to Bastia and Calvi through the mountains.