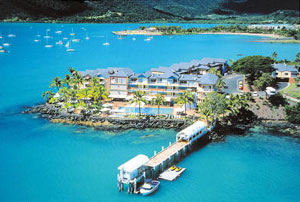 Airlie Beach offers visitors a broad array of accommodation from stylish resort hotels on the water's edge and apartments on the hillside overlooking the panorama of beach, bay and islands, to bed and breakfast options, motels, camping and caravan parks as well as a host of backpacker accommodation.

Airlie provides many of the essential services for travellers in the region and the town's shopping areas are open seven days a week. Once a week, the foreshore parkland turns into a bustling market with stalls selling fresh fruit and veggies, local arts and crafts and all manner of goods under the shade of coconut palms. The mainland's dining and entertainment options centre around Airlie Beach, ranging from silver service resort dining to al fresco cafes and cheap eats, while Airlie's clubs and bars provide plenty of entertainment well into the night.

Attractions to consisder are: A trip to the Whitsundays - See

Whitsundays Billabong Sanctuary - This delightful animal sanctuary and theme park is the only tourist attraction in the Townsville area to be nationally accredited by the Eco tourism Association of Australia and one of the only two attractions in the Townsville - Whitsundays area to receive accreditation. It is also one of the only three of the 40 members of the Queensland Wildlife Parks Association that have been accredited.

Conway National Park - To the south of Airlie Beach (take the Conway Beach Road off Shute Harbour Road to the west of Cannonvale) are the Cedar Creek Falls which are set in a beautiful and mountainous region on the edge of the Conway National Park. The falls tumble 12 metres through rainforest into a stream which is ideal for swimming if you want to escape the heat and warmth of the ocean.

Popular Day trips include: GREAT BARRIER REEF: Access from Airlie Beach daily by fast motor cruiser around $120-$175 per adult including lunch, snorkelling gear, coral-viewing,submarine. SCUBA diving is an optional extra.

THE ISLANDS: daily from Airlie Beach by maxi-yacht, sailing catamaran, motor cruiser or fast motor catamaran. $32-$125 per adult, according to distance travelled, number of islands visited. The more attractive beaches & better coral reefs are on the outer islands. An average daytrip there incl lunch, snorkelling.etc.