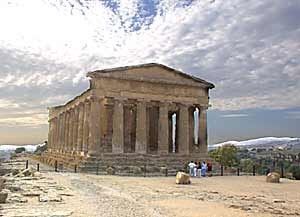 This destination is very popular amongst sightseers, history buffs, archaeologists and photographers combined with traditional beach lovers of all ages.

Accommodation in the area consists of a mix of small to medium-sized 3- and 4-star properties, most with their own leisure facilities, augmented by smaller family-run pensions and are widely spread out in the countryside around the town centre and Valley of the Temples, with a few along San Leone's sea front.

A number of long golden sandy beaches stretch in either direction from the seafront suburb of San Leone, nearly 4 mls from the town centre. Many stretches are protected by man-made breakwaters that encourage shallow bathing. Water sports include water-skiing and windsurfing. An efficient bus service operates between the town centre, San Leone, Valley of the Temples and most outlying properties. Radio taxis available from most hotels receptions.