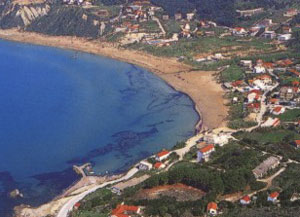 Aghios Stefanos is popular among the British with families young and old. The main beach here is well over 1 ml in length and up to 80 yds at its widest, boasting fine golden sand with some collections of seaweed.

The place is relatively undeveloped, especially at the far end under the cliffs (loungers can be rented in places and a couple of beachside bars are available).

Accommodation consist mainly of apartments over the hillside and a couple of small hotels from budget to middlemarket.

Entertainment consists mainly of the beach, water sports, cycling and hill walking.

By night there are several bars that play music and there is one night club. Getting around Aghios Stefanos is generally limited to Taxi's and 3 or 4 cheap and reliable buses a day to Corfu Town in high season.

Full day excursions consist of trips to Corfu Town for sightseeing and shopping, boat trips or cruises to many islands (including Kefalonia and Paxos) and cruises to Albania.