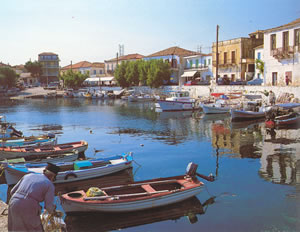 For those seeking a busy holiday with an abundance of restaurants and nightlife this is not a bad choice of holiday venue. Hence, it is not ideal for anyone looking for a quiet retreat.

Accommodation here is very good with a range of hotels and many self catering establishments. Beaches are fairly average consisting of two small and fairly uninspiring town beach areas of grey sand and pebbles. A better bet is at the village and beach of Kalo Horio, 8 mls S, although there is a small and busy beach 2 mls S at Amoudara.

Shoppers will enjoy the many boutiques and other establishments selling local handicrafts and souvenirs, such as leather goods, ceramics and jewellery. There is also a popular weekly market.

Entertainment consists mainly of beach- and water-based activities, including water-skiing, sailing and windsurfing; swimming pool; minigolf; walking in surrounding countryside; archaeological and folk art museums.

By night there is a plentiful choice of lively bars and discos provides entertainment throughout the night, with the harbour as the fulcrum.

For those placing a priority on eating out, there is almost a limitless choice, from tavernas serving local specialities to international cuisine at romantic waterside restaurants; even Indian and Chinese options.

Excursions consist of half day trips to: Venetian fortress on island of Spinalonga, a one-time leper colony; boat trips to Elounda; fishing town of Sitia; palm-tree beach at Vai. Full day trips include: Minoan sites, including Knossos Palace and Heraklion Museum; Lassithi Plateau, with its traditional villages and windmills; Phaestos Palace and the Roman city of Gortys; historic towns/resorts of Chania and Rethymnon; Samaria Gorge (long day).