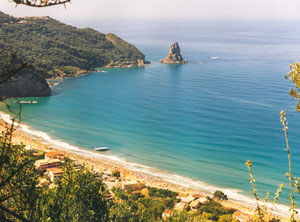 There's not a great deal of action at Aghios Gordios and holiday makers generally consist of quiet beach, walkers and nature lovers. A few supermarkets and souvenir shops, 2 doctors, 1 chemist, no bank but many money-changers are about as much as the place has to offer.

During the day, beach and water based activities including water-skiing, jet-skiing, paragliding, windsurfing, scuba diving and pedalloes; walking in nearby hills; sky diving are all popular activities are available.

By night there is a beachside disco, supplemented by bars and tavernas.

Excursions consist of half and full day: coach trips around island; traditional mountain town of Pelekas for spectacular views; water park inland at Aghios Ioannis; sightseeing trips to Corfu Town.