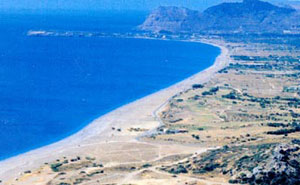 In the high summer season you can enjoy water sports, snorkelling and scuba diving, there are cars and motorcycles to hire, coach and boat trips to nearby islands. You can also swim in the clear blue waters off the 4km stretch of pebbly beach, or play golf at the only 18 hole golf course on the island. You would experience the chance of joining in the local festivities with the locals and to witness wedding ceremonies.

Excursions consist of:

Half day: charming town of Lindos, with its ancient acropolis; ancient Ialyssos acropolis on Mt Filerimos; ancient site of Kamiros; Petaloudes (Valley of the Butterflies) and Kalopetra Monastery; Rhodes Town for shopping and sightseeing; Greek evening.

Full day: island tour; boat trip to island of Symi or to Marmaris in Turkey; scuba-diving excursion; water park at Faliraki. Activities On The Island Of Rhodes On the island of Rhodes there are many activities for you too choose from. Relaxing activities range from golf, snorkelling, scuba diving and swimming or you can choose extreme activities such as bungi jumping in Faliraki.

Those interested in Golf have the only 18 hole golf course on the island is at Afandou, so if you want to play there please make bookings before arrival especially in the summer. Tel: 0030 - 22410-51771. Prices range from €20 - €40 per round.

Ancient Cities and Acropolis can be found for those who enjoy ancient ruins. There are a good selection to choose from, the best of these must be the Acropolis at Lindos. Other ruins include the Ancient city of Kamiros, and the old town of Rhodes. Most of these sites date back to the 6th-5th. BC.