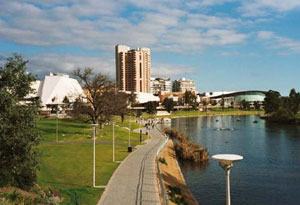 Adelaide suits all types of tourist but especially a more mature, quieter clientele who appreciate Victorian architecture and a refined, genteel atmosphere. The city does, however, have a livelier aspect, making it appealing to a younger crowd.

A dozen or more beaches spread along the 20 mls of coast nearest the city, boasting stretches of golden sand are also a fabulous attraction to this city. Glenelg is probably the best known and most developed with safe swimming, a variety of water sports and a water park.

There are Plenty of shops, befitting the capital of the state of South Australia. Rundle Mall is a pedestrian street in the NE of the city with department stores and lots of shops. Its continuation, Rundle Street, is full of boutiques. Central and East End Markets plus another in the suburbs at Tea Tree Plaza. In North Adelaide, Melbourne Street and O'Connell Street meet shoppers' needs. Opals are promoted as a good buy.

There is plenty do in Adelaide, examples of which include: the botanic gardens housing rainforest in a glasshouse, Japanese gardens, various parks, a zoo, museum, large aquatic centre with extensive indoor swimming pools, cricket and Australian rules football at Adelaide Oval, horse and greyhound racing, Australian Grand Prix motor race, held on the streets of the city, street entertainers.

By night there is the Festival Theatre for shows, plays and concerts, cinemas, casino, pubs, clubs and discos, with the best selection on Hindley Street, in the NW corner of the city centre, which also boasts a few adult entertainment venues.

Those looking for a place to eat will not be disappointed, Adelaide is said to have more restaurants per head of population than any other Australian city, with many oriental, Italian, Greek and native restaurants; local fish is a favourite and even legal "Aussie tucker" like kangaroo-tail soup can be found. Head for Melbourne and O'Connell Streets in North Adelaide or Rundle and Hindley Streets in the city centre.

Local excursions to Barossa and Clare Valley wineries; Kangaroo Island; boat trip along River Murray are also popular options for tourists.