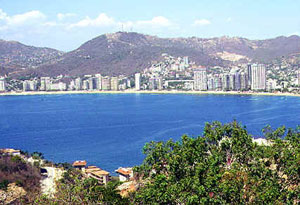 The beach is the main "activity", with associated water sports such as parasailing, water-skiing and banana rides. Diving, sailing, snorkelling, jet-skiing, deep-sea fishing and just floating in inner tubes. Cliff diving is exclusively a spectator sport that has been drawing tourist crowds for many decades, but bungy jumping offers adrenaline rushes to all-comers. Many hotels have gym and sports facilities as well as daily activity programmes. Several golf courses are available to play in the area. Papagayo Park, a limited and rather dated fun park is popular amongst children. A local water park with dolphin and seal shows. Weekly bullfights. Go-karts, roller-skating, a zoo, aquarium, museum and exhibitions at the convention centre.

By night Acapulco offers a handful of large discos, often with live acts and offering lively all-night entertainment. There is no real focus to the night scene, which can feel quiet and unsophisticated outside a few key places. Plenty of smaller clubs and bars. Many hotels run their own programmes of evening entertainments. A famous Acapulco institution since the 1930s are the Quebrada cliff divers, who pitch themselves gracefully from a height of 148ft (45m) into the seemingly shallow water of a narrow chasm in the ocean below after praying at the small rock shrine for safety.

Getting around is largely limited to taxi's. Whilst local buses are readily available they tend to be uncomfortable and less convenient than the cheap door-to-door service offered by local VW Beetle cabs. Larger saloon-car taxis offer the added comfort of air-conditioning but at a considerably higher, although usually fixed, price. Taxis often wait outside the larger hotels but are less readily available in the quieter sections of the resort.

Excursions tend to revolve around Harbour and bay tours, some calling at local islands or other beaches. Dinner cruises. Jet-boat tours in the stunning Papagayo River gorge for thrill-seekers; slow boats also available. Jungle boat tours on the Coyuca Lagoon. Mexico City and the silver-mining and jewellery-making town of Taxco (overnight tours).